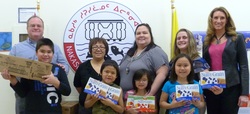 Throughout the month of November, Nakasuk School, Iqaluit, underwent construction to improve air quality. This repair work was completed in the evenings and on weekends so as not to interrupt student instructional time.

We thank the Students and Staff at Nakasuk School for accommodating the workers by completing preparation tasks at home. As well, we appreciate the efforts of CGS, the Nunavut Department of Education, in particular Barry Cornthwaite, to ensure this process worked well for us and did not have any negative impact on the delivery of our curriculum. Thank you all!

We especially thank the project contractor, Shawn Rankin and his team from Indoor Air Quality Ottawa, for donating over 11,000 Nutri-Grain Bars to Nakasuk School. This generous gesture will be a great support for our Breakfast, Lunch and Snack Programs!

In the attached photo, left to right, are:

Back Row: Shawn Rankin (Owner/Lead Investigator-IAQ Ottawa); Susan Tigullaraq (Student Support Teacher/Snack Committee); Christa Kunuk (School Community Counselor / Breakfast Program Coordinator); Cathy Welsh (Student Support Teacher/Snack Committee); Tracey MacMillan (Principal).

Front Row: Simon McDonald (Gr.5 Student); Qaqassie Aningmiuq; Alana Kunuk (Gr.2 Students); and Jesse Apak (Gr.5 Student).