Katimavik is an national organization that engages youth in volunteer service to foster sustainable communities throughout Canada. This fall, Nakasuk School, Iqaluit, hosted three of these individuals at our school. Their efforts were greatly appreciated and their volunteerism provided a good example, not only for our students, but for our Faculty and Support Staff.

We thank Katimavik for the opportunity to partner with the program and look forward to participating in the future. On 12/12/2011 Faculty, Students and Support Staff bid a fond farewell to three dynamic Katimavik Volunteers: Allie Ralling; Anne Etuangat; and Etienne LaChance Carignan.

In the attached photo: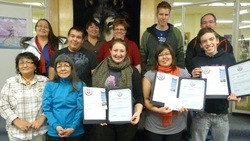 First row, left to right, are: Annie Petaulassie, Gr.3 Teacher; Mary Akumalik, Kindergarten Teacher; Allie Ralling, Katimavik Volunteer; Anne Etuangat, Katimavik Volunteer; and Etienne LaChance Carignan, Katimavik Volunteer. Second row, left to right, are: Meeka Kakudluk, Gr.2 Teacher; Keith Oqallak, Gr.1 Teacher; Leeveena Nuyalia, Vice-Principal; Marlene Letkeman, Curriculum Support Teacher; Ciaran Olsen, Katimavik Project Leader-Iqaluit, Nunavut; and Harry Butt, Physical Education Teacher.