Earlier this year Nakasuk School, Iqaluit, renewed it's partnership with the Nunavut Teacher Education Program of Arctic College. We accepted four students from the NTEP program and placed them with Teacher Mentors.

Today, the NTEP students and Teacher Mentors attended an Internship Seminar in Iqaluit. During the session, the NTEP Mentors and Interns had an opportunity to participate in shared activities and discussions about the final practicum process. Topics included: Professional Development; formative and self-assessments; personal and professional growth; and communication skills. I commend the pairs on quickly establishing collegial, working relationships.

We thank the Teacher Mentors who are assisting the Interns to plan, practice, reflect and grow professionally; and the NTEP Interns for their hard work and dedication to the process.

In addition, we thank Mary Flaherty, NTEP Educational Professional Studies, for facilitating the session. We sincerely appreciate her commitment to ensuring success is achieved by all!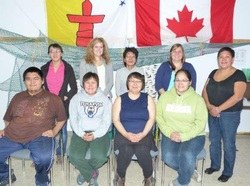 Back row, from left to right, are: Brenda Qiyuk, Ashleigh Hogan, Morty Alooloo, Samantha Roberts, Teacher Mentors; and Mary Flaherty, NTEP Educational Professional Studies Instructor.