This year Nakasuk School, Iqaluit, has again entered into a partnership with the Nunavut Teacher Education Program of Arctic College. We have accepted four students from the NTEP program and placed them with Teacher Mentors. They will assist and present lessons at the school until the Christmas break.

Last year, Nakasuk School accepted five students. I am pleased to state that two of those graduates are now employed as Teachers at Nakasuk School: Brenda Qiyuk and Morty Alooloo. They, in turn, are now serving as Teacher Mentors.

We thank the Nunavut Teacher Education Program for their confidence in us to present strong programming that will enhance the skill sets of the Student Interns. Additionally, we thank the Iqaluit District Education Authority for their support of this partnership with Nunavut Arctic College. It is a partnership that continues to benefit both parties.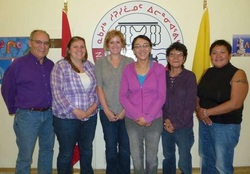 In the attached picture, from left to right, are: Allen Weeks, Chairperson, IDEA; Teacher Mentors: Samantha Roberts (Grade 5); Ashleigh Hogan (Grade 5); Brenda Qiyuk (Grade 3); Morty Alooloo (Grade 4); and Mary Flaherty, NTEP Educational Professional Studies.